Same Skills, New Heights: From Plane to Patient Logistics
After eight grueling weeks of Navy bootcamp, Grecia Chavez was just 23 years old when she made it to the most difficult challenge yet: an all-night simulation of saving people from a burning, flooding ship. After hours of drenched clothes, cold Chicago winds, and pulling 120-pound weights off the ship, she finally stood shoulder to shoulder with her fellow recruits. As her "Recruit" hat was switched for one that read "Navy," Grecia had an overwhelming feeling gather in her chest – the same feeling she got when she accepted a trophy on behalf of her team at the Compass Night of Stars nine years later – pride.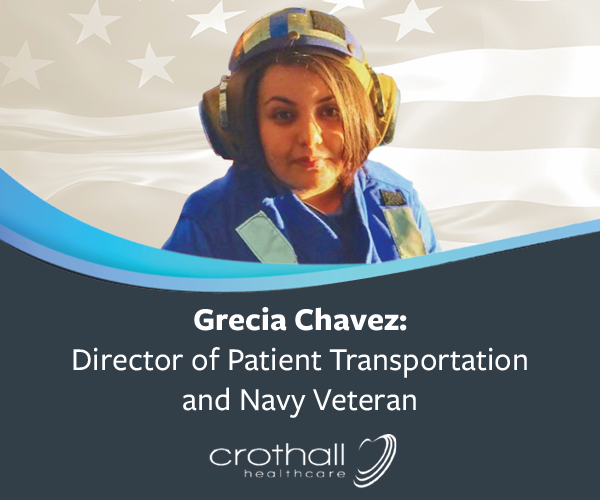 Hard work has always flowed through Grecia's veins. After moving from El Salvador at the age of 15, she took day, night, and summer classes to finish high school and learn English. In the Navy, she was an Aviation Boatswain's Mate Handler, at sea three months at a time working around the clock to train, maintain the ship, and direct planes. Since 2017, she has worked for Crothall, now serving as the Director of the Patient Transportation teams at Inova Alexandria and Inova Mount Vernon hospitals in Virginia. 
"You may not think you are capable of something, but someone else will see it in you." Grecia said. "At Crothall, there is so much opportunity and support – that's why I love it here." 
As a veteran, she takes everything she learned from the Navy and applies it to her position as the Director of Patient Transportation. She's still reminded of landing and directing planes on the ship as she coordinates and moves patients from point A to point B. Grecia has thoughtfully built a team of empathetic, hardworking people, but she doesn't see them as just her team – she sees them as her family. 
"We have times we celebrate and times we struggle, but no matter what, we will do it together," Grecia said. "I had a chief in the Navy who would say to 'train how you fight,' and it applies to us here, too. We will always be ready when our patients need us." 
Patient transporters are described as the frontline ambassadors of patient experience. They are some of the first people who see the patients, and they are a consistent source of light. An experience that sticks out to Grecia is when a patient called her just to let her know that their patient transporter never failed to make them laugh, every time they were together. 
"It may only be five minutes of a patient's day, but for those five minutes, they will have a smile on their face," Grecia said. "My team creates those moments every day – it's incredible." 
Grecia still gets teary-eyed when she reflects on the moment that she graduated from Navy bootcamp. Years later, as she stood on a stage representing her team that earned the title of National Account of the Year at the Compass Night of Stars, that same feeling returned. 
"I didn't think I could do it," she said. "A girl from El Salvador who couldn't speak any English… I just didn't think I could do it." 
But she did, and she beams with pride. Pride for her new country, her team, and her work.