Rahma Gure, Crothall's National Gem Of The Year
Rahma Gure is a housekeeper at TIRR (The Institute for Rehabilitation and Research) and is the recipient of this years GEM of the year!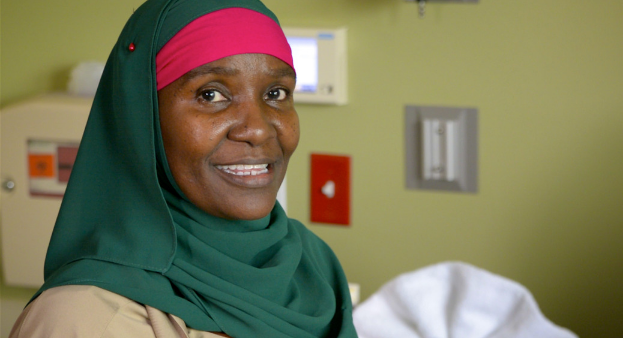 GEM, short for Great Employees Make Magic, is the award we use to recognize associates who go above and beyond to create a welcome experience for patients and their families, clinical staff, communities and their Crothall teammates. Thousands are given GEMs each year, but only one associate is given the honor of being the National GEM of the Year.
Ten years ago, Crothall Healthcare became the support services provider at TIRR (The Institute for Rehabilitation and Research) Memorial Hermann where Rahma Gure, Crothall's 2018 National GEM of the Year, is a housekeeper.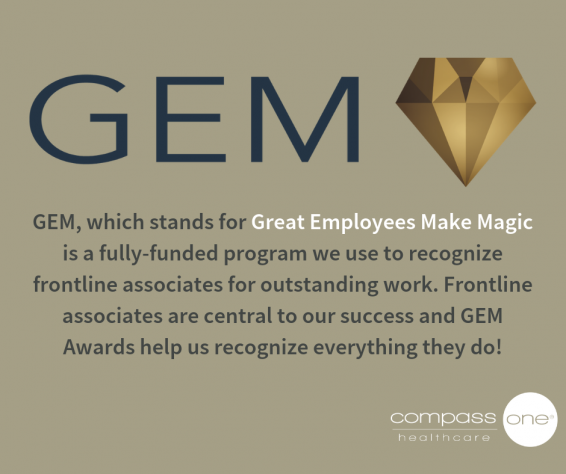 "Over the years, she's worked in every capacity within the EVS department," says her Unit Director, Clarence Owens. "Now, she works as a support lead housekeeper between our two outpatient clinics."
In her years with Crothall, Rahma has seen a lot. Perhaps one of the most devastating and most memorable events was a series of storms in fall 2017 which included Hurricane Harvey. Located in Houston, Texas, TIRR Memorial Hermann was stationed right in the storm's path.
But the thing about working in healthcare is that hospitals don't close just because a storm is coming – even if that storm is a Category 4 hurricane. "Last year during Hurricane Harvey, Rahma showed up to work ready and prepared for what was about to happen," remembers Clarence.
Rahma and her husband talked as the storm approached and both agreed to come to work to help her large TIRR family was the right thing to do. She ended up staying on campus at the hospital for six days away from her family.
"I'd never seen anything like it," Rahma says of the hurricane. "I needed to be here for the patients and hospital staff. All the key workers were living here and they needed someone to keep their area clean! TIRR is like my second home."
Even when a natural disaster isn't looming, Rahma still goes above and beyond to provide great experiences at TIRR Memorial Hermann. Clarence says, "Our client would say Rahma is one of the special reasons why TIRR is ranked one of the top hospitals in Rehab for the United States." Understanding that a patient's experience is impacted by a variety of factors, Clarence, TIRR Memorial Hermann, and the entire Crothall family are beyond thankful for Rahma's dedication to others.
This kind of compassionate, selfless and unconditional service is what earned Rahma this year's National GEM of the Year award and a seat at Compass Night of Stars.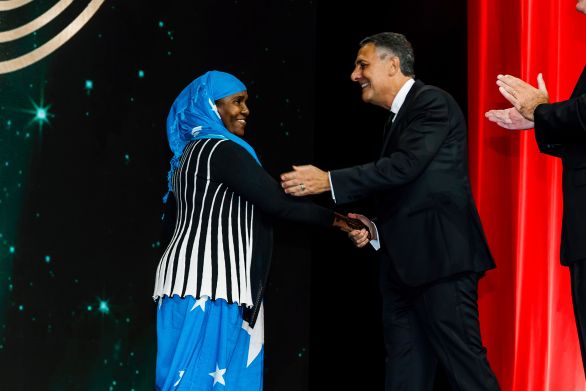 Each year, Compass Group, Crothall's parent company, hosts Compass Night of Stars to recognize the extraordinary achievements of our top performers across all Compass Group sectors, including our National GEM winner. With attendees spanning the US and Canada and industries ranging from schools and corporations to stadiums and hospitals, our Compass Group family comes together each year to celebrate the best of the best of our associates with the experience of a lifetime.
This year's Compass Night of Stars was held at the Hard Rock Cafe Orlando. Attendees were greeted with a red carpet, paparazzi, screaming fans and a black-tie gala to celebrate their accomplishments and exemplary service.
We asked Rahma what the National GEM of the Year award and Compass Night of Stars meant to her. She excitedly said, "This was so awesome. When they played my video and I received my award it was like I was on TV.  I have never experienced anything like this in my life. This means everything to me."
Rahma says, "What I do know about Crothall is they care deeply about us. I don't want to work anywhere else. My manager and director are great people. They make sure our team is great and give us everything we need to do our job."
Rahma hasn't missed a scheduled day of work in nearly three years. We're happy to hear she doesn't want to go anywhere else – we wouldn't have it any other way.
Meet Morrison Healthcare's National GEM of the Year
Did you know our sister company, Morrison Healthcare also has a National GEM of the Year? Meet Justin. Justin makes mealtime a bright spot in his patients' day. For many patients, mealtime is the only moment when they aren't in pain or discussing their illness with a doctor, nurse, family or friends. Justin's passion and determination to relieve others' suffering is what earned him Morrison's National GEM of the Year award…[more]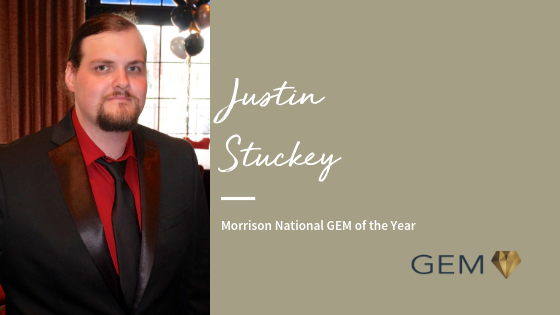 Join the Crothall Family and be a GEM!
Looking for meaningful work helping people? Do you want to marry your passions and serving others? Check out available team member or management opportunities to join the Compass One Healthcare and Crothall Healthcare family. We believe in providing exceptional patient experiences and are proud of the opportunities we have each day to help people and serve alongside world-class clients.
Crothall is a proud part of Compass One Healthcare and Compass Group USA.
Crothall was the first in the industry to standardize the use of ultraviolet (UV) technology. Crothall quickly identified UV as an innovation to destroy microorganisms and fight HAIs.