The first COVID-19 patient in New York City was admitted to the hospital in March on the day Marissa Janneire returned from vacation, The Crothall Regional Director of Operations (RDO), responsible for several major hospitals there, immediately took action.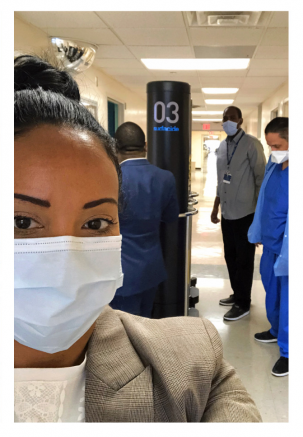 "In Environmental Services, we live for moments when we can show how vital our staff is to the overall healthcare operations," she says. "I immediately went to Bellevue Hospital to understand the needs of this type of patient and how this would affect our operation. From that day on, we did everything in our power to keep our hospitals clean and help the medical staff treat thousands of patients."
During the pandemic, Marissa's responsibilities expanded as the crisis grew. It started with 11 hospitals and post-care facilities NYC Health + Hospitals covering lower Manhattan, Queens, Staten Island and Brooklyn locations. But as more treatment sites needed, her responsibilities expanded to include 57 clinics, 46 testing sites and two COVID hotels where people stayed after testing positive for the virus.  
Because of her leadership during the crisis, as well as the past 13 years at Crothall, Marissa was recently been named the winner of the Terry Batchelor Memorial Award. This award honors one of the company's historic leaders by recognizing an associate who best exhibits Crothall's corporate values. It is considered the top honor in the company.
"Marissa brings an energy and commitment to our company and objectives in a way that few people can match," says Mike Villani, Crothall's Regional Vice President for the Northeast. "She embraces our mission, values and drives outcomes working side-by-side with her teams."
Tom Racobaldo, Crothall Healthcare's president, says Marissa performance epitomizes the meaning of the award.
"The Terry Batchelor Memorial Award was created to honor a man who had a lasting impact on our company. He passed away while supporting our start-up at the Cleveland Clinic in 1996 and his performance was always stellar, his work ethic was second to none and he would always put the company first.
This award keeps his spirit alive and recognizes the individual who best demonstrates the great qualities that Terry possessed. In 2020, Marissa Janneire is that person."
Steering EVS Through the Crisis
This spring, Marissa was focused on one goal: Providing a safe, sanitized environment for all hospitals in her region, despite the amount of pain and suffering occurring around her and her team.
"I was in constant communications with the hospital's management team, making certain they knew we were the backbone for their facilities and would not let them down."
Her stamina and management skills were put to the test. Managers were moved to different locations and took on added responsibilities daily to keep the hospitals clean and ready to serve patients. On several days, Marissa was on site at the beginning of each shift, delivering supplies where needed. On many days, she often slept for only a few hours.
She moved quickly to ensure her managers understood how to solve the shortages and changing requirements for Personal Protective Equipment (PPE), guidelines for cleanliness and sanitizers, and the importance of communications.
"I set up a group text with all the managers in my region to communicate 24/7 about our needs," she recalls.  "We used it to talk about supplies that were needed, find out where help was needed and simply talk to each other during such a difficult period. 
"Even though we were afraid, we never let fear drive our operations, outcomes or how we took care of the staff and the patients."
Her duties didn't stop after leaving the hospital. On many evenings while driving home after such a long day, she spoke with several manages and associates to console them.
"I spent a lot of time consoling staff members who were worried about their own health, their exposure to their families and their patients," she says. "People were scared. They said, 'How do I come back to work every day?"
"I talked to them every day, listening to understand their concerns," she says. "It was one of the most difficult periods for all of us, and I just needed to make sure they were ok mentally and physically."
An Extraordinary Career
Marissa joined the company in 2007 as the Director of Environmental Services (EVS) for Mount Sinai Queens after Crothall bought a company called Professional Services. She quickly became a top performer, leading the hospital to major increases in HCAHPS scores and earning a promotion to EVS Director at Mount Sinai Hospital.
Three years later, she become the Regional Director of Operations for the Mount Sinai Health System, responsible for seven acute care hospitals, two surgical centers and 30 off-site medical office buildings.
During that period, Marissa had her initial experience working with infectious diseases. She managed all EVS operations the Mount Sinai Health System through Ebola pandemic by setting up and cleaning trailers for patients outside of the hospitals.  She also wrote new policies on how to provide proper service and worked with approximately 30 government agencies to ensure all aspects of possible pandemic were covered.
"I feel like my experience with the Ebola crisis really helped prepare me for COVID-19," Marissa says. "We had to confront many of the same issues, such as securing enough PPE." 
Since taking over as the RDO at NYC Health + Hospitals in 2017, Marissa has continued to improve EVS' operations. She has helped the hospital reduce its incidents of Healthcare-Associated Infections (HAIs) and enhanced the training curriculum for all Crothall managers at NYCHH.
She is also credited with bringing an innovative approach to solving problems through her "Think Tank" sessions where Crothall and NYCHH managers worked to find solutions. On top of these achievements, she serves as the company's Northeast champion for Diversity and Inclusion.
"She has done an outstanding job of improving the working relationships with our hospitals while also improving the morale and performance of her direct reports," Villani says.
When asked about her proudest moments of service during the pandemic, she cites the bravery of her directors, managers and associates and the care they brought to patients.
"Despite all of the trauma, the Crothall team here had that "can do" attitude that helps make EVS a part of the hospital's healthcare solution to COVID," she says. "Because of the team's ability to clean and sanitize the hospital, we were asked to clean testing sites, clinics and COVID hotels. As a team, we can be proud of our contribution to help fight the pandemic and keep medical staff and patients safe."