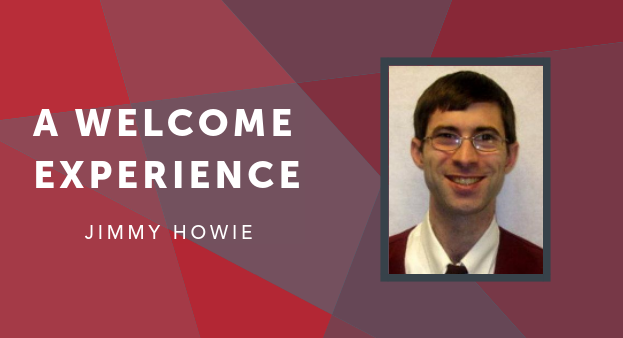 Doctors and nurses may be at the heart of the hospital, but our frontline associates are the backbone of every endeavor. When we talk about the importance of a "welcome experience," we are relying almost entirely on these fine folks—people like Jimmy Howie, who is a Patient Transport Associate at Matthews Medical Center.
"It's easy to get tired or frustrated no matter what you do," says Howie, reflecting on the long hours and sometimes chaotic conditions that are part of working in healthcare. "I always try to encourage the whole team. I feel like encouragement and work ethic are a perfect blend and I try to bring both to the team."
We asked Howie, "What does providing a welcome experience mean to you?" He replied with a question of his own: "How would you treat your family? I treat every person I encounter like family. With respect and a sense of humor. There was a patient, a young guy, going in for surgery surrounded by family. They were all nervous and scared, but before I finished talking the whole family was laughing."
"I never think I am that special, I just try to do my best. I remember when a group came in after I had transported their family member. They all remembered my name and gave me a hug. How you treat someone never goes unnoticed."
Listening is often undervalued or overlooked, but Jimmy can speak from experience that it is a very special skill to have.  "I am a preacher's kid, and I have always loved being around people whether at work or not," He says. "Everyone has a story if we just take the time to listen."
"What does it mean to you when you're the recipient of a welcome experience?" we asked.
"It's too sweet," says Howie. "If you have the right mindset and your heart is pure, you will always deliver a remarkable experience."
Help Create a Welcome Experience and Join the Crothall Family! 
Looking for meaningful work helping people? Do you want to marry your passions and serving others? Check out available opportunities to join the Compass One Healthcare and Crothall Healthcare family. We believe in providing exceptional patient experiences and are proud of the opportunities we have each day to help people and serve alongside world-class clients.
Crothall is a proud part of Compass One Healthcare and Compass Group USA.
Crothall was the first in the industry to standardize the use of ultraviolet (UV) technology. Crothall quickly identified UV as an innovation to destroy microorganisms and fight HAIs.