Ignite Inclusion: Sandy's Story
At Crothall, we need to hire and develop thousands of "best' associates to keep up with our growth, as well as enhance our reputation for quality in the workplace.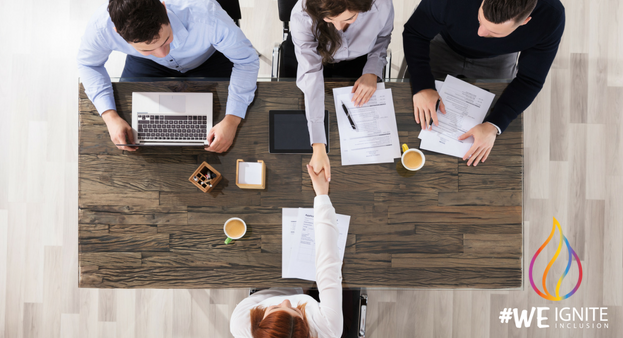 Can A Person's Hair Hurt Their Job Hunt?
By Sandy Schuster, Senior Human Resource Director
After I graduated from college and started my search for a job in Human Resources, I had long, blonde curly hair. Over a one-year period, I had approximately a dozen interviews, but I wasn't having any luck. It was somewhat frustrating and I couldn't determine why I wasn't receiving any offers. Then, at one interview, the recruiter remarked that I didn't seem serious enough for the job. Her comment really affected me – so I decided I needed to make a change.
In an effort to look more professional, I decided to change my appearance and cut my hair really short.  It may have been a coincidence but shortly thereafter I was offered my first Human Resources job.  My career has grown from there, taking on greater responsibilities over the years.  And my hair?  I kept it short for many years, not growing it out again until I got my first big leadership role in HR.
Even today, I recall how much those remarks stung. Instead of interviewing me and asking me questions, looking at my degree, work ethic and other qualifications, the recruiter – who was an older woman – didn't consider me a serious candidate because of the color and length of my hair.
Lessons Learned
The lesson here is simple:  If we are going to be a diverse and inclusive company – and one that sets the standard for our industry – don't judge a book by its cover. When I interview candidates for a position, investigate an associate issue or have a talent discussion, I always do a deep dive about the facts and qualifications and try to find the right fit for the job, the decision on the investigation or recommendation for development.
At Crothall, we need to hire and develop thousands of "best' associates to keep up with our growth, as well as enhance our reputation for quality in the workplace. If we fail to consider candidates from all walks of life, we will miss out and end up not hiring the best talent. A diverse workforce also complements our diverse customer base and promotes open-minded thinking that propels innovation.
Applying My Own Experience and Lessons Learned
Early in my HR career, I put my thinking into practice and it paid off.
I needed to hire an executive assistant for a Vice President in our company. Back then we would get hundreds of resumes for a job, so I selected 10 people, spoke to them on the phone, and selected four to come in for an interview.
One of the candidates was a woman from Peru. When she spoke, her accent made it somewhat hard to understand her. But her qualifications were impeccable and she had a warm, engaging personality.
I presented her to the vice president, who said he wanted to make her an offer.  But after speaking with her on the phone, he called me in and said he'd made a mistake – he couldn't understand her. But I knew she was the right person for the job, so I coached him and made him reconsider.  He hired her and she was fabulous.  She worked for 11 years for the company and won the Employee of the Year award one year!
Incorporating Diversity & Inclusion Into HR Today
I recently celebrated my 10-year anniversary with Crothall and Compass One Healthcare and it's been a rewarding experience. I feel respected for what I bring to the table.  My job is fulfilling: almost daily I participate in interviews to investigate associate concerns, help make hiring decisions and determine the best plans to help develop associates.  I help managers determine the salient facts, qualifications, and needs so that they can make good decisions without any bias.
I also work with a diverse group of individuals and I learn something new every day about what makes people different and the importance of keeping an open mind about each person's skills and thinking.
However, as we continue to push forward with our diversity and inclusion initiatives, I urge everyone to continue to be more sensitive to the needs of others. When considering people for a position, I sometimes sense an unconscious bias that needs to be tempered.  It's not unique to our organization either. To avoid any bias, HR professionals across all industries should consider these questions:
Questions all HR Professionals Should Consider
Do you make a hiring decision almost instantly?
Do you stereotype people just by appearance?
Do you assume that a female cannot relocate because she has children?
Would you rather hire "who you know" even when presented with candidates with more experience and successes?
Do you have a pre-conceived image of what your successor should look like and if so, do they look similar to you?
Would you rather work with someone who has your same style as you?
Would you rather work with someone that agrees with your opinions?
Do you talk more than you listen?
I'd like to see more women and diverse leaders in the RDO role and above. I encourage all associates to find out more about all the resources available to them to develop and grow professionally.
Onward and Upward
We have an amazing Learning and Development team that has created courses and training to help with development. The annual performance appraisal process offers a way for you to take charge of your future. Each person is in charge of hearing and acting on feedback from your manager, creating a performance development plan, creating your profile in my opportunity and taking charge of your career! Also, if you are interviewed for a promotion and don't get the job, ask "why" so you can be better prepared the next time.  Human Resources and your leaders are here to help propel you.
As we continue this journey, look out for situations where there may be an unconscious bias – such as hair or skin color, personalities, style, ethnic background, appearance, family, age or gender. There are so many benefits of working in a diverse environment. We spend many hours with our co-workers, so feeling accepted and accepting others makes the workplace more fun and gives us an opportunity to learn more.
If we continue to challenge our thinking on this issue, we'll all learn and come out as better people and an even more successful organization.
Looking for meaningful work helping people? Do you want to marry your passions and serving others? Check out available opportunities to join the Compass One Healthcare and Crothall Healthcare family. We believe in providing exceptional patient experiences and are proud of the opportunities we have each day to help people and serve alongside world-class clients.
Crothall is a proud part of Compass One Healthcare and Compass Group USA.