Ignite Inclusion: Nick's Story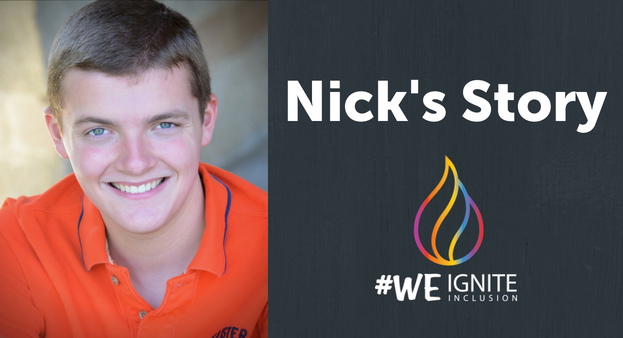 Compass One Celebrates Inclusion Day
On May 16, 2018 Compass One Healthcare celebrates Inclusion Day, a celebration dedicated to championing our differences while placing an emphasis on creating an inclusive and welcoming culture. We value our associates, especially what it is about each one that makes him or her unique.
The Power of Diversity and Inclusion
When was the last time you felt genuinely included in something? Perhaps that question also evokes memories of times when you felt excluded. All of us have been on both sides of the coin and can agree that feeling included is not only more pleasant, but inclusion allows us to be better, more productive versions of ourselves. Knowing that you belong is powerful.
While diversity occurs when a group is comprised of different kinds of people, inclusion is the practice of embracing those differences, leveraging each other's uniqueness and breaking down barriers. This month Crothall and our sister company, Morrison Healthcare are taking extra time to recognize and appreciate our differences but focus on the power of inclusion.
Our associates across the country are sharing their inclusion stories – stories like Nick's.
Nick Drennan joined Crothall Healthcare in December 2016 after feeling unwelcome at a competing service provider. Initially, Nick served Crothall client, Cincinnati Children's Hospital – Liberty Campus by assisting with trash disposal. Soon, Nick's supervisors recognized his hard work and growth potential. Shortly after, he was promoted to help in radiology, the emergency room and in the operating room.
"[Nick] is such a detail-oriented person. These are perfect areas for him to work in," says his mother, Laura Drennan. Nick also has Asperger's Syndrome, otherwise known as high-functioning autism.
Nick is most known for his high-quality work and pleasant demeanor. He excels in his role because of his eye for detail and the inclusive team who supports him. As Laura puts it, "a disability does not dictate one's ability—everyone can be productive and Nick is just another individual paving the way."
We are proud of our associates who are linking arms and breaking barriers. Together we're embracing differences and learning from each other. Altogether, this makes a better workplace, provides our patients, coworkers and communities with more exceptional experiences and transforms healthcare.
Learn More about How Compass Creates a Culture of Inclusion
Join the Compass One Family as a Crothall Associate
Looking for meaningful work helping people? Do you want to marry your passions and serving others? Check out available opportunities to join the Compass One Healthcare and Crothall Healthcare family. We believe in providing exceptional patient experiences and are proud of the opportunities we have each day to help people and serve alongside world-class clients.