Ignite Inclusion: Jodie's Story
Respect And Understanding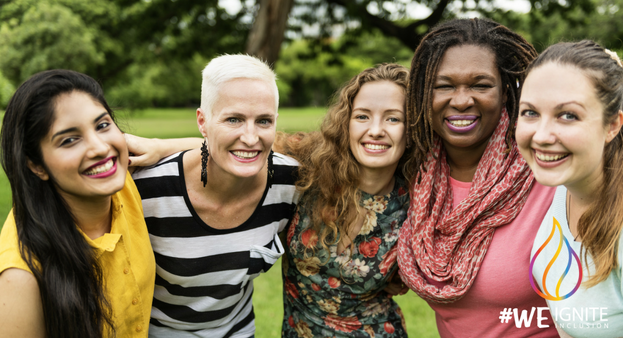 By Jodie Nixon, Director/procurement, Hts Technical Resource Center
When medical equipment goes down at more than 200 hospitals across the nation, it's up to my team to assist with getting it up and running again.
Twelve of us – all women – operate the Sourcing Department for the Technical Resource Center for Crothall's Healthcare Technology Solutions (HTS) group in Mooresville, NC. We provide support to more than 300 field technicians who need test equipment and parts for vital medical equipment to keep our hospitals operating.
It's our job to source the parts for the best price and warranty and get them to the HTS field technician.  Most orders are placed for overnight delivery by 8:30 a.m. the next morning or in some cases we are asked to arrange for the part to be driven to get it there quicker so our field technicians can get the equipment up and running.
No hospital knows when its equipment will break down, but fixing it as quickly as possible is critical. The orders include replacement parts for all types of medical equipment that is used in a hospital from a thermometer to big-ticket items, such as X-ray machines and CT scanners, which cost hundreds of thousands of dollars and are critical to patient care.
Our department is staffed 24×7. However, around 3 p.m. each day, we see a spike in urgent requests for replacement parts needs from the field technicians. My team moves quickly to identify vendors that may be able to help solve the problem.
Once the correct part is identified and the pricing and warranties agreed to, an order is placed, the technician is notified his order is complete and when it will arrive and then on to the next order it is.  If the technician required technical support, my team will provide them with vendors that we have national agreements with that can help them navigate through their problem and help them solve the issue and order parts if needed.  It's a fast-paced environment where people sit in close proximity and teamwork is a must. It also comes with a high level of stress – if a part doesn't arrive on time or doesn't work – we immediately start the process over again to find a solution.
That's why I try to place a special emphasis on recognizing the diversity of each person in my department, including their language, culture and other traits that make them special. When getting medical equipment up and running can save lives, everyone on the team needs to respect each other's value and pitches in to solve an issue.
As the day gets late, you can hear the customer service representatives asking each other if they need any help with their orders. We never leave anyone here alone working on an order.  Someone always says they will stay and wait on whoever is finishing up an order.
We often celebrate our diversity with special events where people are encouraged to share their stories. Our service contract administrator, Delia Nicolescu, was born and raised in Romania. I encourage her to tell us about her upbringing and her culture, and bring in Romanian food for others on the team to sample.
I also feel a personal connection with Delia because of an experience in my own family. My brother and his wife traveled to Romania many years ago and adopted a baby and brought her back to the United States.  Now an adult, we always made sure the child understands her heritage. Watching a child from a different background grow up here helped me realize that sometimes people with different background aren't included in activities.  So if I see someone sitting alone at lunch, I speak to them and make them feel they are a part of the group.
The team includes people from other countries, too, which enables all of them to experience other cultures. Magally Rosales, another customer service representative, is from Costa Rica.  She has relatives with small children in Costa Rica, so when we find clothes or other items they can use, we bring those in and give them to her.
In today's workforce, there's often a wide gap in ages, so it's important to try and bridge that gap. Jill Walker who sources parts as well is in her early 70's.  She shares her knowledge and experience of business with the team, while they help her better understand technology to make her job easier.
I've worked in medical equipment for 35 years and headed the Technical Resource Center since 2006, and I can't remember a time when having a diverse workforce is so important. Bringing people together who have a wide range of experiences and opinions to the workplace, which provides more creative and innovative thinking.
The workforce in my department is a perfect example of how diversity makes us better. There are few people with experience sourcing medical equipment parts, so I recruit and train people to learn the job. The ones who tend to make it have the ability to treat their peers as equals and pitch in to help out when a co-worker is trying to solve multiple problems.
As a DIAC board member, it's important to stand up and participate in something I strongly believe in. Understanding differences in others is important for all of us. Maybe most important, seeing people come alive that have never been included before is a wonderful experience. It makes us better people and makes Crothall a better company.
More about DIAC
Diversity & Inclusion Action Councils (DIAC) are business-supported, associate-led groups that are dedicated to championing the Diversity & Inclusion mission of Compass. The DIACs are aligned to the business sectors and seek to foster inclusion through cultural awareness, engagement and appreciation of diversity. Learn more here.
Join the Compass One Family as a Crothall Associate
Looking for meaningful work helping people? Do you want to marry your passions and serving others? Check out available opportunities to join the Compass One Healthcare and Crothall Healthcare family. We believe in providing exceptional patient experiences and are proud of the opportunities we have each day to help people and serve alongside world-class clients.