How One Manager's Diverse Approach Makes Evs Better
As one of EVS's youngest managers at age 29, she understands more than most the importance diversity and inclusion is for her team to be successful. 

Though she was only four years old when her family moved to the United States, Sandra Mejia recalls how difficult it can be to adjust to a new language and culture. So, the operations manager for Crothall's Environmental Services team makes it a priority to help her diverse staff succeed and thrive in their jobs. 
"Just like my family, many people on my staff came to the U.S. for a better life, so I can identify with them and their needs," she says. "For most of them, this is the first job they got in the US, and they've stayed here for 15 or 20 years, earning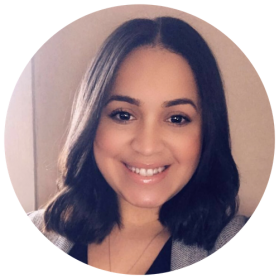 money for young children or families back home. Their stories enable me to understand them better and appreciate their needs. It always reminds me to appreciate my own background." Sandra oversees 35 people at Englewood Hospital and Medical Center in Englewood, New Jersey. Many people on her staff are immigrants from the Dominican Republic, Colombia, El Salvador, Jamaica and Guatemala. As one of EVS's youngest managers at age 29, she understands more than most the importance diversity and inclusion is for her team to be successful. 
Sandra believes listening and learning from her staff is a good way to create an inclusive work environment. Her approach is making a clear impression on key company leaders.  
"She's always thinking about the best interests of her associates," says David Diaz, resident regional manager at Englewood and her supervisor. "In staff meetings, when I ask her opinion about a topic, she always mentions the impact on associates. She also listens closely to any changes or recommendations and brings those quickly to her staff. For a young manager, that's a great skill." 
Interacting with her staff as often as possible is part of Sandra's "team first" approach. She meets with each person on her staff to welcome them to the team and help them understand their role. Birthdays are celebrated at monthly meetings and food from the associates' home countries are shared during holidays. Once people know and learn more about each other, it makes the work environment a better place. 
"I want to know each person as a unique individual. I also want them to understand we are a team. As part of a team, others will help you out. Once that happens, they will share different ideas and learn from each other about safety, cleaning and other aspects of the job." 
Building a cohesive team enables Sandra to do what she enjoys most: teaching and coaching her staff. "Ever since I was young, I wanted to be a teacher. While I didn't take that formal path, I love teaching others what I know. When a new employee joins our team and I can help them learn the job, or do their job better, it gives me great satisfaction." 
Here's a good example. Sandra noticed that one of her associates' cleaning routine was delaying other services that needed attention, so she took the associate under her wing to improve her time management skills.  
Sandra taught her to begin by picking up trash and freshening each patient room. After her break, the associate would clean each room – including the bathroom and all surfaces, as well as sweeping and mopping. With this technique, the associate finished her duties by the end of the shift. Even though Sandra's motive was to help her teammate improve, the change resulted in higher HCAHPS scores to her unit, a win-win.   
Sandra's strong work ethic and compassion for others comes from watching her parents make extraordinary sacrifices. Moving to the US 25 years ago from the Dominican Republic, neither of her parents spoke English and both started at minimum wage jobs. She recalls both working from 4 a.m. to 4 p.m. daily at David's Cookies to make ends meet. 
Nevertheless, their perseverance prevailed. Over several years, both progressed and were promoted to better jobs, enabling them to buy a house and put three daughters through school. "My mother worked in a factory for many years. But I watched how she succeeded by working hard, and it makes me want to do the same." 
Sandra, who has two young sons, wants to set a similar example for her boys. "If they see their Mom working hard, they will understand what it takes to succeed." 
That's often not easy in a workplace where change is constant. To meet the hospital's needs in a pinch, Diaz says Sandra is flexible when he needs her to adjust her schedule to meet a client's needs, including last-minute childcare arrangements. 
"She is unflappable in any situation," he says. "If I need her to work a split shift, she will adjust her schedule to manage her work and home life. We work in an ever-changing environment and she is able to easily adapt." 
Sandra's actions also set an example for her staff on how they can succeed in a diverse work environment. She realizes that others will seek opportunities to advance within the company and will do her best to help them succeed. 
"Sharing our experiences in life, the people we've worked with and what they've taught us, makes Compass Group a good place to work. If I can bring out the best in each person and help them succeed, everyone wins." 
Learn More about How Compass Creates a Culture of Inclusion
Join the Compass One Family as a Crothall Associate
Looking for meaningful work helping people? Do you want to marry your passions and serving others? Check out available opportunities to join the Compass One Healthcare and Crothall Healthcare family. We believe in providing exceptional patient experiences and are proud of the opportunities we have each day to help people and serve alongside world-class clients.
Crothall is a proud part of Compass One Healthcare and Compass Group USA.