Honoring Excellence At Crothall And The Hospital At The University Of Pennsylvania 
"We should recognize every one of us while we're alive and appreciate everybody around us today…. We should make a conscious effort on how we're treating one another, and how we're caring for each other."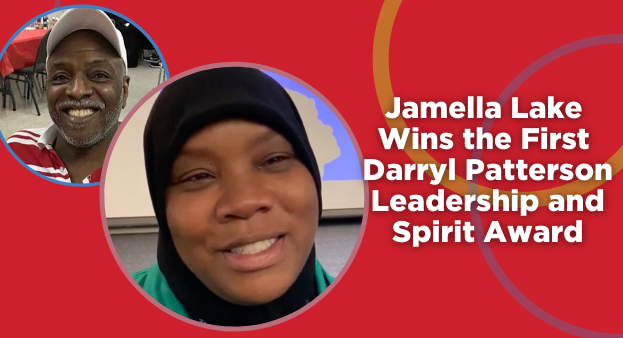 Jamella
 Lake Wins the First Darryl Patterson Leadership and Spirit Award
 Sometimes, a person makes a profound impression on the organizations they sustain, with only their humor, charm, and commitment to excellence. Both Crothall and the University of Pennsylvania, who were lucky enough to know Darryl Patterson, will never forget him.  
To recognize not only Darryl but other EVS overachievers who help keep the Hospital at the University of Pennsylvania in Philadelphia (HUP) running, Crothall has created the Darryl Patterson Award. We are thrilled to announce that the first winner is Jamella Lake, another amazing pillar of the Crothall community.  
 "We believe [Jamella] embodies some of Darryl's most admirable traits," said Miyata Thomas, Operations Manager for the Ravdin Building, officiating the awards ceremony.   
"Both radiate positivity, spread joy, and put everyone around them at ease. This is not to say they do not understand that there will be some roadblocks in life. But they did not let this stop them or change their state of mind. […] They bring positivity to work every day with their drive, focus, and passion for everyday aspects of life. Their ability to stay positive and see the glass as half full is remarkable, considering they work in an environment where it can be difficult to look on the bright side."  
"It's a real honor," says Jamella, who knew Darryl personally. "When it happened, it was really emotional for me. It does mean a lot."   
 "I always remember his smile that he had every morning, and him always saying, 'Come on, take it to the next level, you can do it! You can do it.'" 
Jamella

 did it. 

 
"Jamella has worked for Crothall since 2003," says Lauren Grossi, Office Manager for Environmental Services. "She is one of our housekeeping leads for the Ravdin Building, so she takes on a lot of extra responsibility. She is basically the Operation Manager's go-to person. She is cross-trained in many of the different specialties that we have here at HUP, including UV machines, floor care, curtain changes, lead duties, and training duties, just to name a few.  
 "Jamella has helped trained many of the staff and members of the management team that have started at HUP over the years."  
Remembering Darryl Patterson

 
"Darryl had a way of pulling the team together and creating a culture change, creating the quality of world-class service we're delivering here at HUP," says Crothall Regional Director of Operations Steven Gaynes. 
Although Darryl only worked at Crothall for three years before becoming sick, he was able to help systematize and streamline the department, boosting morale and improving the culture, creativity and effectiveness of the whole crew.  
His influence reached far beyond EVS, however. When Darryl fell ill, he was treated in the same Hospital he had done so much to improve.  
 "So many people visited Patterson when he was sick that I would hear the nurses in the hallway saying, 'Who is this? He comes with an entourage,'" remembers Gaynes. "Every different exam, every procedure, there was a whole army of Pattersons with him. But when he was staying in the room, [former HUP Chief Organizational Officer], Carolyn Jackson stopped in multiple times a day, as well as [Chief Medical Officer] Neal Fishman. To have that kind of effect on people, that spirit, is a testament." 
Gaynes came up with the idea for the award at Darryl's funeral, where more than 600 people gathered to celebrate his life. "One of the things we wanted to do was tie it into the Day of Service because he had so many ties to the community. He had fraternity brothers show up, people from all different walks of life who he had touched along the way." 
With internal funding through the Reward and Recognition program, money was allocated from the yearly budget process and on January 20, 2020, the first award was given to Jamella Lake.  
"When you talked to Darryl, he made you feel special," said Gaynes at the award ceremony. You came away from that conversation with a good feeling. We will always have our sayings around the department that will stay, that are Darrylisms."  
 [Crowd chuckles] 
 "Many of you know them." 
 [Laughter, "Oh yeah" from the crowd] 
"Some of them are positive." 
[Crowd roars.] 
"We should recognize every one of us while we're alive and appreciate everybody around us today…. We should make a conscious effort on how we're treating one another, and how we're caring for each other." 
That's why we are working to recognize people like Jamella Lake, whose efforts and excellence benefit so many at Crothall and HUP.  
Help Create a Welcome Experience and Join the Crothall Family!
Looking for meaningful work helping people? Do you want to marry your passions and serving others? Check out available opportunities to join the Compass One Healthcare and Crothall Healthcare family. We believe in providing exceptional patient experiences and are proud of the opportunities we have each day to help people and serve alongside world-class clients.
Crothall is a proud part of Compass One Healthcare and Compass Group USA.