English Second Language Class Break Down Barriers For This Evs Team
Language is a cornerstone of culture, identity, and understanding. In healthcare, the ability to communicate through a shared language is critical to creating equitable, inclusive, and safe experiences. Recognizing the importance of language, Crothall Environmental Services Director at Robert Wood Johnson University Hospital – Somerset, Jaime championed his coworkers' participation in the ESL Program. 
Robert Wood Johnson University Hospital Somerset in Somerville, NJ was holding English as a Second Language (ESL) classes for their employees. The hospital's SALUD Business Resource Group, comprised of employees that are either Hispanic or speak Spanish, identified that some EVS staff members had limited English proficiency (LEP) and wanted additional education to improve communication with their colleagues and patients. That's when they decided to offer the classes for free to employees to lessen the language barrier. 
Through an existing partnership with Raritan Valley Community College, the college's Workforce Training Program led two virtual education sessions (morning and evening) for 10 weeks. The classes helped teach essential English skills such as elements of a sentence, key vocabulary, Spanish words and phrases for common healthcare terms, and pronunciation all of which help understand English as a second language. 
"The ESL program has been very useful to me at work. In my new position, I practice, and I feel very good to be able to help others," said Pilar, Bilingual Receptionist, after taking part in ELS classes offered by Robert Wood Johnson University Hospital Somerset. "I'm thankful for the opportunity this organization offers us." 
"This is something that they will be using for the rest of their lives," Jaime said. "I can see my team has more confidence when they are interacting with the patients and customers as well". 
A graduation luncheon was held for 15 students who graduated from the program. Anthony Cava, President, and CEO, Robert Wood Johnson University Hospital Somerset, delivered remarks and presented each graduate with a graduation certificate, and thanked them for their dedication and involvement.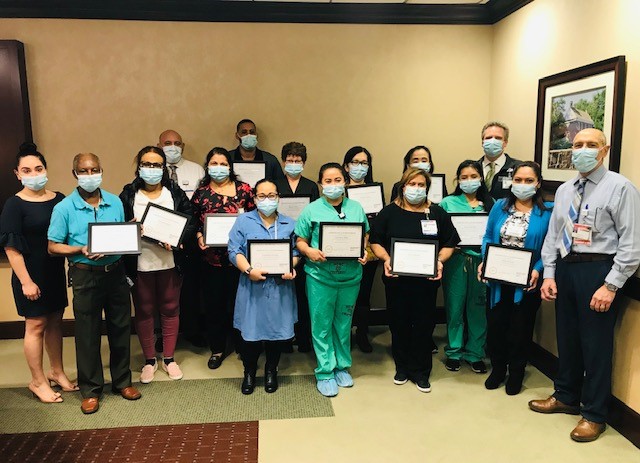 "I'm very thankful for the opportunity to take this class. I've been living here for many years, and nobody has done something like this for me before. The teacher was great, and I now feel more confident interacting with my colleagues and friends," said Housekeeper Victor. 
Thanks to the ESL program and Jamie's support, his team is reducing language barriers. Jamie's team is more confident communicating with patients and continues to provide exceptional service and care all while ensuring safety.