Dion Moore Lost A Track Scholarship, But Gained A Career At Crothall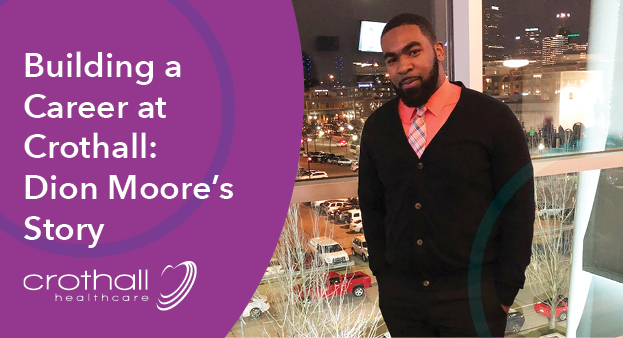 Dion Moore knows what it's like to battle adversity and achieve his goals.
When he was only 18, Dion Moore received a track scholarship to Slippery Rock University as a sprinter – but lost the scholarship once he tore his hamstring. Without the financial means to attend college, he came back home to Pittsburgh to find a job. He immediately applied and accepted a housekeeping position at Crothall, and while it wasn't evident immediately, it was a turning point in his life.
Fourteen years later, Dion is now an assistant director for Crothall Healthcare's Environmental Services (EVS) unit at the University of Pittsburgh Medical Center's Children's Hospital (UPMC).  He oversees approximately 60 associates on two shifts at the hospital and, at age 32, has his sights set on a career where he can make a different in people's lives.
Dion Moore Lost A Track Scholarship, But Gained A Career At Crothall
"I got a scholarship to run the 100 meters, but I never had a chance to run after I tore my hamstring," he says. "Losing my scholarship at an early age was a difficult experience, but it taught me to leave the past behind and focus on the future. I learned from an early age to adapt to my environment."
Dion began his Crothall journey as a housekeeper in 2007 at UPMC. His family has a history of working in healthcare, with his mother working in dietary medicine for more than 30 years at Allegheny General Hospital in Pittsburgh.
Dion worked as a housekeeper for seven years. But he knew he wanted a long-term career, so he enrolled at Everett Institute, a community college.  With a 3.8 grade point average, he received an associate degree in accounting in 2011.
He also showed off his leadership qualities during this period by organizing basketball games at the hospital between the dietary and housekeeping departments to raise money for the hospital. At school, he served as a student ambassador by helping out at school orientations and other school activities.
And he continued to stand out among his peers at Crothall, exhibiting several characteristics the company looks for in a future manager, says Chris Connelly, now resident regional manager for Crothall at UPMC.
"As an hourly employee, Dion was very reliable, smart, organized and an extremely good worker. And he has a presence, too," says Connelly. "People liked him, but they also looked up to him. We're always looking for people who can be future leaders and Dion had all of the qualifications."
Dion's first big break came in 2014 when Connelly promoted him to an EVS operations manager. He was extremely pleased about the promotion to a management position, but soon found out there are challenges he didn't anticipate.
"I was managing many of my old peers and a small number thought they could get away with behavior that just isn't acceptable," he recalls.  To demonstrate his leadership, he had to discipline some people and even tell others they have to leave the job.
Improving Management Skills Through Crothall's Learning and Development Programs
To aid Dion's management skills, he has benefitted from several courses that are part of Compass One Healthcare's Learning and Development program. The courses are particularly useful for former hourly associates taking on new management duties and leadership roles.
To date, Dion has attended several training sessions. They have included promoting diversity and inclusion; improving business writing skills; learning how to adjust their communications and behavioral style with others and identifying ways to increase associate engagement and retention.
During these training sessions, Dion has met other managers and gained an understanding the issues they face, taking away key lessons he can apply to his staff. At a recent training session, he came away feeling energized about his career path. "After hearing stories about how my peers are improving their teams, it made me want to 'up' my game, to be a better version of me."
Connelly says Dion's leadership qualities are easy to spot.
"Some new managers, especially those who worked in hourly roles, tend to stay away from conflict," he says. "But Dion takes conflict head on. People look up to him and respect him, so there are very few problems on his teams.  But if he needs to deal with a difficult situation, he does."
Dion has been an assistant director since January 2018. He says his personal drive, training and the advice he receives from mentors such as Chris Connelly and Charlene Humbert-El Amin, his supervisor, are helping him further develop his skills.
Connelly has served as a natural mentor, choosing and nurturing his career growth while also providing constructive advice. "Chris has been like a father figure to me, helping guide my career. But he's a no-nonsense person who will also hold me accountable and make certain I'm performing at a high level."
Humbert-El Amin is "the voice of reason," showing him how to get the most from our staff and deliver the best results for Crothall's clients.
It all adds up to a bright future. Dion experience and his accounting degree may eventually qualify him for a director's position, using his accounting skills to develop and manage budgets.
"I've always been willing to be open to new ideas and learn new things," he says. "I want to do the job at hand, but always see the 'big picture', and work toward that goal."
Learn more about other incredible associates like Dion in our Compass One family by visiting our digital scrapbook