Creating a Culture of Safety Through Infection Prevention
Our task seems formidable: about one in 25 patients in the US are infected while they are in a hospital. Known as Healthcare Associated Infections, or HAIs, this problem is one of our major challenges. Yet, using our proven disinfection processes, we can play a major role in saving lives, as well as billions of dollars for our clients.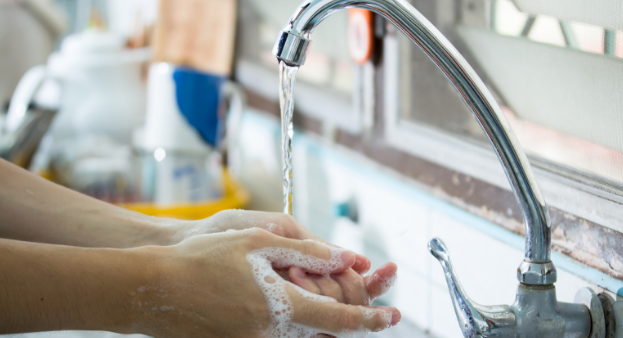 By Rich Feczko, National Director of Systems, Standards, Innovation & Global Support
Hospitals can really use our help in reducing HAIs. As they struggle to reduce costs, clinical staffs are often overworked, which can undermine protocols and increase the risk of infection. In addition, if patients become infected and complain via social media, the hospital's reputation as a caring, engaged institution is tarnished by a breakdown in safety.
Our comprehensive strategy focuses on equipping our associates with the best training and tools while engaging with hospitals and product manufacturers to find new products and technology to augment our approach.
Here's a great example of how our strategy helps reduce HAIs and improve patient safety:
Working with Surfacide, one of our key partners, we are using ultraviolet (UV-C) light disinfection equipment to reduce bacteria called Clostridium difficile, a  leading cause of infectious diarrhea. To kill the bacteria, the UV-C disinfection system disinfects all hard surfaces of a hospital room, including the bathroom, destroying the bacteria and other multidrug-resistant organisms.
Two Baltimore hospitals using this technology are making major strides in reducing HAIs. One decreased the risk of acquiring hospital onset infections by 46 percent while the other decreased its risk by 29 percent. I recently met with top administrators of the first hospital and they continue to report significant increases in efficiencies and reduction in HAIs.
A Leader in Innovative Solutions
Because of these and other success stories, there is new interest in products and new technology that improves the health of patients and associates while also helping hospitals reduce the cost of fighting infection.
As a result, we've formed strategic relationships with several manufacturers to identify the best products to reduce HAI incidence.
For example, we have a partnership with Handwashingforlife® to reduce the risk of HAIs and person-to-person illness. The science of hand hygiene, correct gloving technique, and the importance of high-touch surface cleanliness is continually taught to all housekeeping specialists.
Our product committee studies all potential new solutions with a focus on infection prevention, the impact of technology and sustainability. They hold regular reviews and meet twice annually with vendors and other partners to explore solutions.
When it's time to test a product, clinical testing is always done in conjunction with our clients and we also add third-party infectious disease and infection prevention and control experts to the testing protocol.
We are currently testing two new emerging solutions that have the potential for further reducing HAIs. We hope to gain regulatory approval and begin using both sometime in 2019.
Keeping Our Associates Safe
With new products and technology available to aid our fight, managers play an important role in keeping their associates safe. It begins with a comprehensive safety training program in place to protect our associates.  The training is part of the new associate on-boarding process, as well as extensive safety education and annual refresher courses that include information on regulations and compliance.
In addition, to optimize patient safety, we include Hygiena ATP (adenosine triphosphate) cleaning verification in our measurement process. As a constructive, scientific tool aligned with infection prevention, the execution of ATP provides another layer of comfort in the effort to mitigate the risk of HAI activity.
Associates working with chemicals, equipment, cleaning tasks and handling medical waste are required to wear work gloves, goggles, and other personal protective equipment.
In some cases, we've increased patient and associate safety with safer products that are extremely effective while reducing our product needs. Tersano, a Canadian company, produces devices that clean hard floors, carpets, stainless steel and glass and replacing the needs for several chemicals formerly needed for these tasks. Because of our success with Tersano at Florida Hospital Orlando, it's now used at many US hospitals.
What's Next?
We'll continue our strategy to identify and work closely with key partners to reduce HAIs across the country. We need to master what we do well, and we expect the same from our partners.  If they can bring their expertise and data, we can differentiate our approach with our clients.
A great example of how this works is a recent program with a large healthcare system in the Mid-Atlantic region, a 923-bed facility, that has resulted in a decrease in overall infection rates.
Seeking a comprehensive program to reduce HAIs while increasing patient satisfaction, the healthcare system worked with Crothall and our product partners to customize a program to meet its needs.
The solution started with the Crothall High Profile Cleaning (HPC) process, which cleans and disinfects a hospital room, and is complimented with disinfectants made by Diversey, a key partner. After an extensive product evaluation, Oxivir Five 16, a sustainable product, was selected to meet the hospital's goals for infection prevention and compliance. Oxivir is a one-step disinfectant cleaner powered by hydrogen peroxide technology that is gentle on surfaces and requires minimal personal protective equipment.
The program has been a success on all fronts: HAIs have been reduced, the Mid-Atlantic health system is pleased with its steady increased in HCAHPS scores and our EVS staff satisfaction has increased. It's these kinds of positive results that will help hospitals choose Crothall as a partner that will provide them with a consistent, improved cleaning protocol and disinfection results across a hospital system.
Join the Crothall Family as an Environmental Service Associate
Looking for meaningful work helping people? Do you want to marry your passions and serving others? Check out available opportunities to join the Compass One Healthcare and Crothall Healthcare family. We believe in providing exceptional patient experiences and are proud of the opportunities we have each day to help people and serve alongside world-class clients.
Crothall is a proud part of Compass One Healthcare and Compass Group USA.