Celebrating Inclusivity During Autism Awareness Month
Benjamin Prousnitzer, Crothall Healthcare's linen distribution associate at Arkansas Children's Hospital, has his eye on the gold!

April is Autism Awareness Month! World Autism Awareness Day is an internationally recognized day on April 2nd every year to raise awareness about people with autism spectrum disorder.
Benjamin has been working in Crothall's Environmental Services Department at Arkansas Children's full-time for the last 18 years. He has high-functioning autism, placing him on the spectrum.
In 1997, Benjamin attended Wilderness Boarding School in Asheville, North Carolina. He attended for almost 5 years, achieving many things along the way. Accomplishing goals was Benjamin's favorite memory. He worked hard to complete chores and responsibilities on his own. Attending boarding school required Benjamin to find his independence, helping to mold him for the future.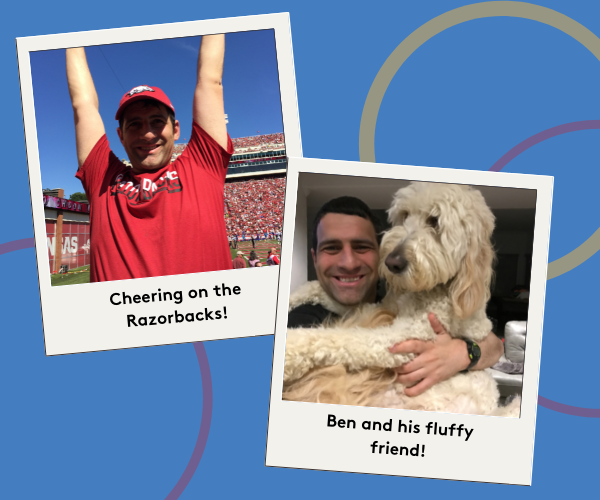 Right out of high school, Benjamin needed to find a job. With the help of a few people, Benjamin was able to secure a job at the hospital collecting the trash. Over time, through hard work and dedication, he worked his way up to where he is now, passing out clean linens to staff. When asking Benjamin what he loves most about his job, it was getting to talk with the nurses and staff. Benjamin's positive attitude in the workplace has brought a welcoming experience to all he encounters. The nurses and staff have gotten to know Benjamin best through talking about dogs. In understanding Autism, it is important to know that those on the spectrum, like Benjamin, are people like everyone else; they just learn differently.
The open and inclusive environment that Arkansas Children's Hospital and the Environmental Services team have created has helped Benjamin to excel in his role, advocating for others with Autism. Valarie McCoy, Crothall's Lead Housekeeper, says "He has a relationship with everyone in the work area in his own way. Everyone likes him and protects him in their own way. If you ask him for help with something he's more than willing to do it, especially the women with the lifting and pulling. You will never hear him complain about work as he loves his job."
Living "on the spectrum," people like Benjamin face many challenges in their everyday lives. 20% of people with autism spectrum disorders are diagnosed with anxiety, which only heightens as changes around them occur. When the COVID-19 pandemic hit, people with autism spectrum disorders experienced an increase in anxiety due to places shutting down and activities having to be canceled. Benjamin worked throughout the pandemic, and with the help of his family, he found a way to cope with the stress.
Benjamin was an avid swimmer before the pandemic hit. He was given the opportunity to work part-time as a lifeguard at a local pool in Little Rock, Arkansas, and continues to swim after work once a week. He has built a trusting relationship with the employees at the pool over the last few years and was able to go swimming at the pool during the lockdown. Each afternoon, he would go swim, in addition to working out, to help relieve the anxiety he was feeling. As he trained each day, he became stronger and more of a natural swimmer. The Special Olympics Team in Arkansas offered him the opportunity to compete as a swimmer in the upcoming Special Olympic games.
The Special Olympics of Arkansas has given Benjamin the opportunity to do something he loves. For the last 5 years, Benjamin has been part of the team. He started competing as a stand-up paddleboard athlete but has now transitioned to competing in swimming. In the summer of 2018, he represented Special Olympics Arkansas at the USA Games stand-up paddleboarding in Seattle and brought home a silver medal. This year, he is hoping to win gold at the USA Games in Florida for swimming. Benjamin's athletic goal is to make it to the World Games.
…
To get to know a little bit more about Benjamin, we asked him a few questions!
WHAT ARE SOME OF YOUR HOBBIES OUTSIDE OF WORK?
I am a movie buff, I love swimming, and I am an expert at Lego building.
WE KNOW YOU LOVE DOGS; DO YOU HAVE ANY OF YOUR OWN?
I have two dogs, a goldendoodle named BeBe, and a terrier named Bandit.
WHAT IS YOUR LIFE GOAL?
To own my own pizza shop in Little Rock!
WANT TO LEARN MORE? CHECK OUT THE SITES BELOW!
Learn more about the Special Olympics!