Anthony Delacruz On The Welcome Experience
Clean Rooms Mean Confident, Relaxed Patients, Thanks to Anthony Delacruz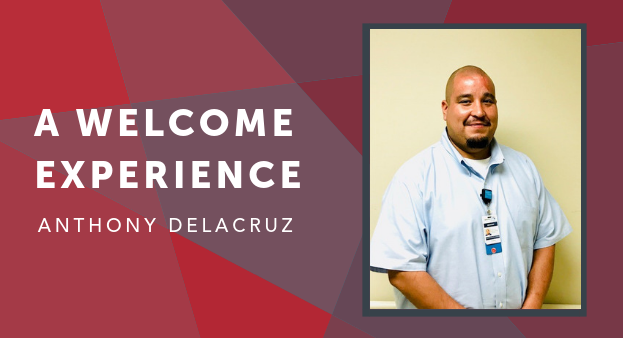 The hard work that goes into keeping the linens and floors clean in a hospital often goes unnoticed, and that's the way Anthony Delacruz, a Housekeeping associate at San Joaquin Community Hospital in California likes it. Most people are usually quick to notice a dirty floor and linens, after all. 
A spotlessly clean room, with quality linens, an immaculate floor, and attention paid to every small detail, makes the patient feel comfortable and confident on a subconscious level. This sets them up to relax into expectations of quality medical care as well. Delacruz knows that it's the little things that make this possible.  
Delacruz is happy, however, that his team's work does not go unnoticed by the hospital staff. His team is thanked regularly for keeping linens stocked and clean, so gowns, beds and gurneys are always ready. This reduces delays or cancellations for surgeries, ultimately resulting in saving lives. 
Patients and hospital guests do sometimes notice. They thank associates and may even hesitate to walk on the freshly polished floors—an ongoing delight to the team. "It's rewarding to know that we are providing a clean environment where the community feels safe and positive about the hospital," says Delacruz. His team recently restored the floors in the main entrance, patient rooms, waiting areas, and hallways at San Joaquin Community Hospital, creating a welcoming experience right when you walk through the doors. 
That experience extends to his team members as well, and Anthony regularly recognizes his Linen and Floor Care teams for their commitment to caring for this community. "Since I've been working in the Linen Department, our team has made drastic improvements on our processes and now the hospital staff stop and thank us for all of our hard work." 
Delacruz has shown true leadership in his position, constantly looking for ways that he and his team can be more efficient through better processes, or by identifying new ways to cut costs. When he took over the Linen Department, he found ways to reduce the amount of linen being sent back to the vendor, cutting approximately $40,000 in linen loss each year! And he did it all while making sure that every patient is able to count on a pristine room, so they could focus on healing.  
"To me, a welcome experience makes me feel appreciated when someone takes the time to ensure I have whatever I need," says Anthony. "It makes me feel like I matter, especially when people still thank me for the impact and positive changes that have been made."