Bertha explaining her experience of being a Patient Flow Manager back in January of 2020. 
A patient flow coordinator at the NPC for four years, Bertha wanted to advance in the organization. Ryan Lamb, Regional Director of Operations for Patient Transport, recommended her for the management training class. He says Bertha earned the recommendation after working successfully with several hospitals in the Novant Healthcare system, one of the larger, more complex systems supported by the Patient Transportation team.
"While managing these accounts, Bertha was able to build a rapport with her transporters, onsite managers at the hospital, and end-users," says Ryan. "Bertha had everyone's full trust in her skills and abilities.
Bertha sees a long future at Crothall and felt the timing was right to move into an operations manager role.
"I knew the ins and outs of a coordinator's job, but I wanted to take on more responsibility and grow within the company," she says. "When the opportunity came to participate in the AMP, I was ready and dove right in."
The COVID-19 pandemic forced Bertha's AMP class to meet virtually for three months earlier this year. Still, she received a high-level of instruction from her instructors and built a new set of working relationships with other new managers based across the country.
Because she had never managed a department or a staff, the AMP training provided her with a framework on management goals and principles. As the NPC's operations manager, she's responsible for scheduling the staff, updating payroll records and service recovery.  She also has to be there to counsel the staff through a variety of issues.
Ryan says Bertha has made the transition into her new role with ease. "She has built solid working relationships with her staff and understands what it takes to provide exceptional service to our onsite managers."
To make sure her staff is as productive as possible, Bertha understands a large part of a manager's job involves listening to the concerns and making certain they are heard.
"When an associate comes to me with an issue, once I tell them I will look into it and follow up, I have to keep my word. It's important that they know I care about them. Otherwise, they won't report any real problems since they don't think anything action will occur to solve the issue."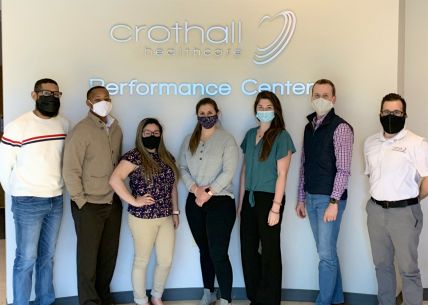 Bertha and her fellow leadership team at the National Performance Center
She also understands that managing through unforeseen issues, such as an associate needing to leave before their shift ends to deal with an emergency, can sometimes make her scheduling duties more difficult. She balances taking care of the hospital's needs while working with her associates.
"If at all possible, we always want to accommodate one of our own who needs help," she says. "It shows we care about the associate and builds respect between us."
While the AMP provided her with a lot of practical management knowledge, a key lesson was to keep an open mind and always be open to new ideas.
"Even though I was a coordinator and know the job well, other people may come to me with ideas to make our operation better," she says. "There's always room for learning and growth."
Bertha says AMP instructors helped her understand that there is an opportunity for a bright future at Crothall. Many of them started at frontline jobs and worked their way up through the managerial ranks.
"They shared their experiences throughout the years of working with the company, including some difficult times where they considered giving up. But they were given an extra push to keep going."
"I learned a lot about becoming a good manager, but the three lessons I will carry forever are to never stop learning, never give up and dignity and respect go a long way."
"When you hear about others overcoming obstacles, it makes you feel like you can do it, too. I thought to myself "If they can do it, so can I!"
Her goal is to continue working hard and seeking additional opportunities down the road as an assistant director or director at a hospital.
"Bertha always strives for perfection," Ryan says. "While it was frustrating at first if something didn't turn out as she anticipated, she is adapting and growing. Every day she becomes a better manager who sees the bigger picture in each situation. She is constantly striving to be the best."
You can learn more about working with Crothall by following us on Facebook, Twitter, Instagram and LinkedIn. If you're interested in joining our Patient Transportation team, apply today!