Alexis Green On The Welcome Experience
During Alexis Green's time at Parkland, she was committed to providing a welcoming experience for all. We interviewed her here: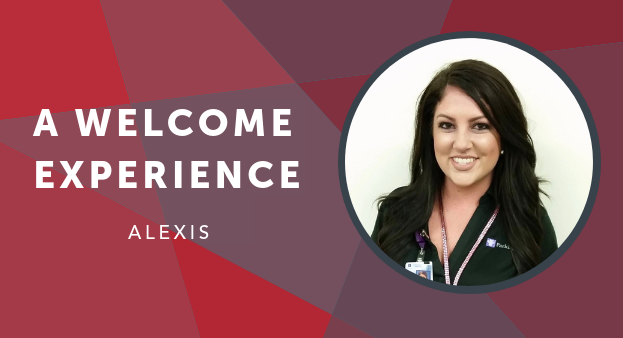 An Interview with Alexis Green: A Welcoming Experience 
Parkland Memorial Hospital in Dallas, Texas, is one of the best hospitals in the region, earning high rankings and professional accolades across the board. But the kind words of patients and caregivers like John Bielamowicz mean the most. 

"I'm proud of [Parkland's staff] not just because they saved our little one's life," wrote Bielamowicz in a letter to the editor of the Dallas Morning News, praising the world-class Neonatal Intensive Care Unit. "I'm proud of them because we were able to witness the care they gave to each baby and each family there. From janitorial staff to the attending physician, we experienced love, care and friendship from each."

During Alexis Green's time at Parkland, she was committed to providing a welcoming experience for all. We interviewed her here: 
How have you impacted the patient experience through your work?  
I started a patient experience project. A local floral boutique delivers fresh carnations every Monday, and they are placed in each patient room during the daily freshen-up. This is special to me because we get to see the positive response from some of our patients who are transferred from the nursing homes and assisted living centers, who don't get very many visitors. One beautiful flower placed in their clean room makes a huge positive impact on these patients during their stay! We have even had patients bring it up in the comments section of the HCAHP surveys.    
Tell us about a time when you created a welcome experience for a nurse, doctor or other caregiver.  
I was selected as the Co-Champion of the Community Cares Team at our facility. I do a presentation during the hospital orientation for all new hires, including nurses and physicians. I work diligently to present well and often I receive positive feedback on how welcome I make them feel, by talking about personal experiences that I have had at our facility and how I've dealt with different situations. I know how important it is that all hospital staff feel welcomed and remember what we are here for, to take great care of our patients. 
Was there ever a time you realized how impactful a welcome experience can be? 

Working with the nurses at Parkland Hospital in Dallas, in one of my favorite departments, the Neonatal Intensive Care Unit (NNICU), was an eye-opening experience. Parkland has one of the largest NNICU departments in the nation, and I had the opportunity help keep that department safe and sanitary for infants in critical care. 

I realized, during my very first rapid RSV season, how many small lives we save by using the proper techniques, which we constantly work to perfect and improve. Being a mother of two amazing kids, it was something that I took pride in as I walked to each patient room and spoke with so many mothers on a daily basis to make sure their stay was as pleasant as possible. I understood just how much our team impacts the lives of families after working in that department. 
How do you think you've been able to provide an experience for the community through your work? 
I take pride in my work because we are providing our community with a safe and sanitized environment to receive healthcare every day. Even outside of our duties at hospitals and other facilities, we come together to serve our community in other ways, such as feeding the homeless, providing our frontline employees with holiday meals, traveling to military bases and serving our soldiers, and volunteering at community shelters—just to name a few. I am very grateful to work for a company that provides me with the opportunity to do so much for the community. 
How do you try to provide a great work experience for your teammates? Can you tell us a story about something you did for your team?  
I believe that working in a very fast-paced, demanding environment like we do, it is important for leaders to take the time to listen to our teammates, and remember that we all have lives outside of work that are important. We all have families, friends, churches, homes, and other responsibilities. Work–life balance can be difficult sometimes. 

One thing I try to do for my team is plan a nice celebration during the holiday season. Working in a hospital that runs 24/7 means working days, nights, weekends, and holidays at one point or another, We have to make the best of that and celebrate life together, with our work family. Making those celebrations possible for my team is very important to me!  
So what does providing a welcome experience mean to you?  
It means that I have given someone the reason to want to share this experience with me again. If a patient feels welcome in your hospital and is provided with a pleasant environment and experience, they will return in the future. If your team members feel welcome when they arrive at work, they are more likely to fulfill their purpose and duties. Providing a welcome experience is something I believe that we can all put more effort into improving every single day.

What does it mean to you when you're the recipient of a welcome experience?  
Being the recipient of a welcome experience makes me appreciate the people who put in the extra effort. Bad experiences are necessary because they teach us so much. We are all human, and I feel like we naturally pull away from anything that makes us feel unwelcome. We should start pushing to create change instead of pulling away. You may help someone else by providing a welcome experience for them. 
Alexis has since moved on to be Director of Environmental Services at San Angelo Community Medical Center and is continuing to provide a welcome experience as well as pass on her knowledge and experience to her associates.  
Help Create a Welcome Experience and Join the Crothall Family!
Looking for meaningful work helping people? Do you want to marry your passions and serving others? Check out available opportunities to join the Compass One Healthcare and Crothall Healthcare family. We believe in providing exceptional patient experiences and are proud of the opportunities we have each day to help people and serve alongside world-class clients.
Crothall is a proud part of Compass One Healthcare and Compass Group USA. Crothall was the first in the industry to standardize the use of ultraviolet (UV) technology. Crothall quickly identified UV as an innovation to destroy microorganisms and fight HAIs.